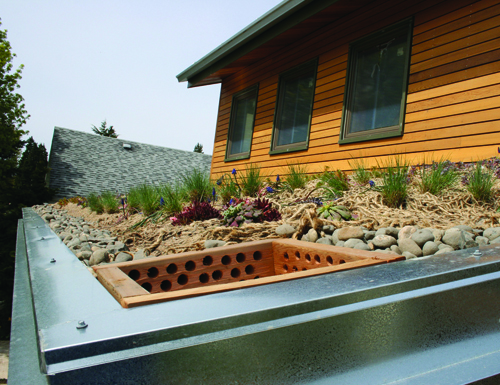 Manning Design+Construction have been pioneers in green roof (ecoroof) construction and maintenance for the greater Portland, Oregon region since 2005. In that time we have installed and maintained over 150 green roofs throughout Portland and the outlying areas.
Green roofs replace conventional roofs with living, breathing ecosystems that mitigate storm-water runoff, conserve energy by reducing heating and cooling costs and provide habitat for native plants, birds and insects. Green roofs also help cool urban heat islands, reduce pollution and carbon emissions and reduce harmful storm-water runoff to help preserve fish habitat. Green roofs also provide additional green space in dense urban environments like Portland.
For the owner/occupant, green roofs reduce ambient noise, and often provide aesthetic value to an under-utilized roof space. Green roofs conserve energy by lowering rooftop temperatures in summer thus reducing the need for air conditioning. Green roofs also increase the longevity of the roof by encapsulating the roof membrane, protecting it from the sun's ultra-violet rays. If protected, the lifespan of the roof membrane can last as long as 50 years. Compared with the lifespan of conventional roofs which last 20 years.
Like other rooftop contracting projects, green roofs increase structural loads and are subject to increased code requirements. With our decades of construction and contracting experience in the Portland, Oregon region we can help you navigate the complexities of building codes, safety requirements, and structural load capacity regulations. We can manage individual project needs from conception and design to construction and maintenance.
If you have a green roof (ecoroof) or other rooftop development or maintenance project, or just want to see how you can better utilize your rooftop space in the Portland metro area (including Multnomah, Clackamas and Washington Counties and beyond), contact us to discover how we can help you save time and money.