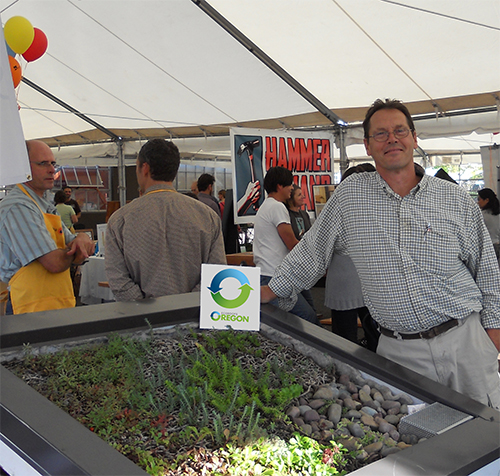 In 1988, after 14 years of working in the field building custom homes and commercial and industrial buildings, Dan Manning established "Dan Manning PC" as a corporation in Portland, Oregon, to supply construction services to the construction industry and to the public. Over the next 15 years, he worked with suppliers, developers, architects and engineers on large construction projects nationwide, applying those years of field experience to value engineering and detailed plan review.
In 2005, Dan Manning PC reorganized as a general contracting business specializing in structural and seismic upgrades and rooftop development, including ecoroofs and other stormwater management systems. Between 2005-2011, in partnership with the City of Portland's Bureau of Environmental Services' Ecoroof Incentive Program, which offered grants to property owners to increase sustainable stormwater management practices, Dan, and his expanding partners and crew, installed more than 50 ecoroofs in Portland.
Today, we've installed upwards of 150 ecoroofs in Oregon, regularly inspecting existing buildings to determine their capacity to support rooftop development. With our knowledge of engineering practices, especially those applied to unreinforced masonry buildings (URM), we are able to perform seismic upgrading for any existing building undergoing re-roofing or change of use.
We've evolved our work to meet Portland's changing stormwater management requirements with projects including ecoroofs, bioswails, elevated and on-grade flow-through planters, and pervious parking areas. Our ecoroof division, Ecoroofs Oregon, provides maintenance on ecoroof projects throughout Oregon including Wal-Mart's 40,000 square foot ecoroof in Delta Park. We share our experiences with educational institutions and community groups in gardens, and parks, and have supported schools and nonprofit organizations in developing stormwater management projects including rooftop gardens, patios, bicycle shelters, and ecoroofs.