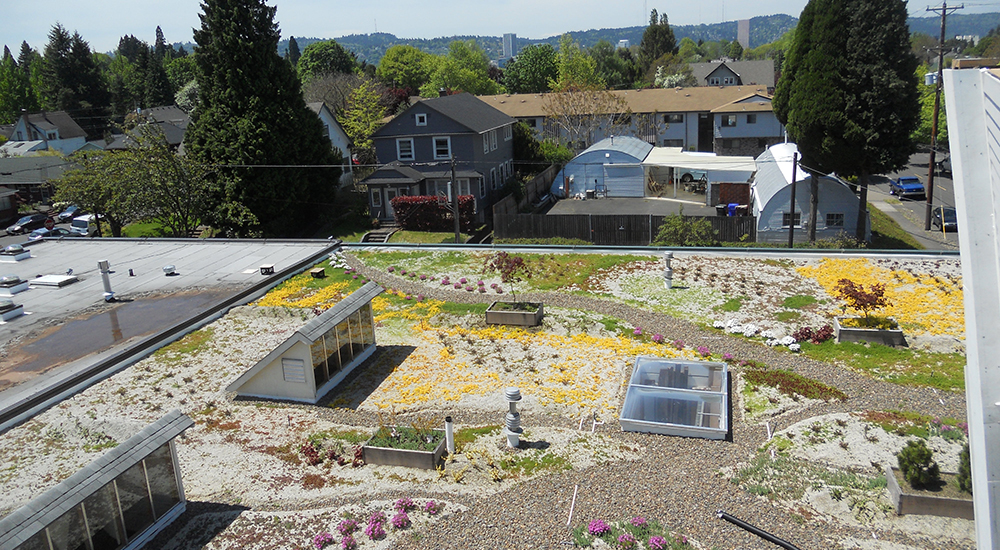 Buckman Neighborhood Ecoroof as Living Space
This 7,265 square foot green roof sits atop a 1927 commercial/light industrial warehouse and residential addition, providing a "backyard" for a building that covers the full footprint of the lot. The residential addition within the warehouse, which required a new roof and stormwater management provisions, was one of the biggest and earliest successes of the Portland Ecoroof Incentive program.
Our work included removing the old roofing, performing the seismic upgrade, applying the new roof membrane, and installing the green roof. The roof reduces stormwater runoff, increases the roof lifespan and provides a model for a low-cost, low-tech design on a medium-size commercial building. The roof is structurally engineered to support up to 18″ of soil in specific areas to accommodate a fully landscaped garden with trees, perennials, and pathways which increase the aesthetic value of the roof and provide habitat in the city for bees, insects, and birds. The project was assembled for $5 a square foot, the amount allowed by the city.