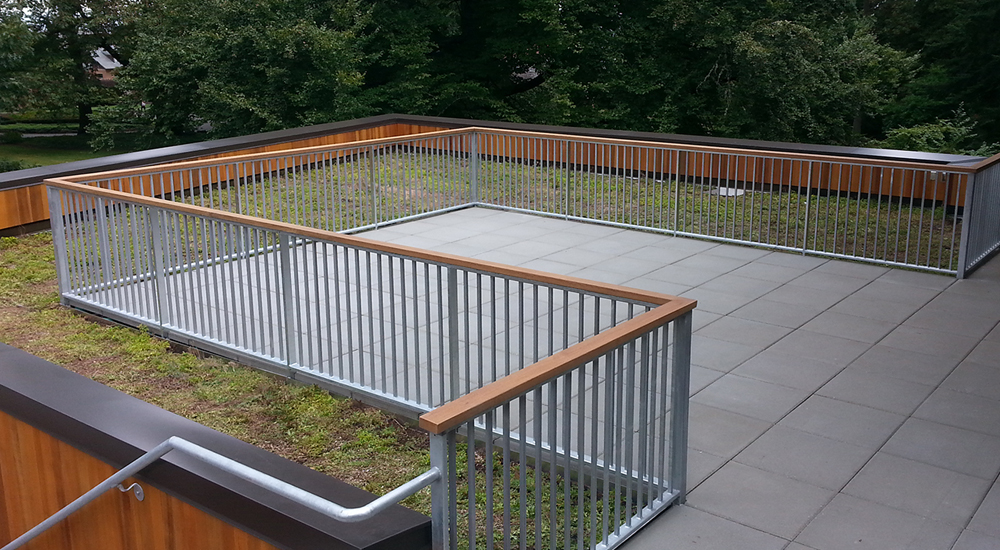 Lewis & Clark College Patio + Ecoroof
The Student Center at Lewis & Clark College's campus in SW Portland has two ecoroofs, one built above the bookstore in 2013, and another, with an adjacent patio off the dining room, built in 2015. Manning Design + Construction was the contractor for both installations.
With a team from R & H Construction, we installed a simple 1,000 square foot pre-vegetated 2.5″ roof supplied by XeroFlor Systems over the College's bookstore, giving the building a general aesthetic facelift. Two years later, we worked with general contractor, Bremik Construction, to further enhance the building's dining room area by adding a 750 sq ft. patio surrounded by a like-sized ecoroof. Again using XeroFlor systems, the pre-vegetated ecoroof depth varies (4′-8′) with the contours of the roof to create a level surface adjacent to the patio. The added soil depth also helps filter rainwater from under the pervious patio. The patio ecoroof supports a weather station that students monitor and collect data from to determine air quality impact.
Ecoroofs Oregon has maintained the ecoroof at the College since 2015.